A Few Of The Most Overrated Travel Destinations
These are some of the travel destinations that remain very popular despite being so lackluster. Be it cost, pollutions, massive crowds or other variables, we do not recommend spending your money on going to these places.
Stonehenge, Salisbury, England
The $23 fee includes you being able to walk into the premise and explore some green plains. Yet you will not be able to get near the stones themselves at all. Alas, you can always make friends surrounded by many other hoards of tourists.
Pisa, Italy
The tower itself is pretty small and not breath-taking at all. Also, your dream of taking that perfect picture supporting the tower will crash and burn, as soon as you see thousands of other tourists do the exact same thing.
Phuket, Thailand
Not only will you be sharing the beaches of Thailand's most popular island with literally millions  of other tourists, the trash and water quality there is far from desirable. November to March offers great weather, yet massive crowds and pollution, whereas the low season has dramatically worse weather.
Tokyo Disneyland, Tokyo, Japan
Tokyo Disneyland is very different to the American ones, and is truly a bit of an inauthentic experience. There are many more worthwhile places to go to in Japan, that offer things truly Japanese and unlike anything else in the world. Oh, also the minimum 2-hour wait at each ride should turn you off this place as well.
Harbour Bridge, Sydney, Australia
You have to pay either $124 (1,5 hour climb) or $224 (3,5 hour climb) to cross this bridge in Sydney. Probably the most expensive bridge to cross in the world, it doesn't even offer that spectacular of a view. Take a ferry instead: you will be able to have a good look of the bridge and not spend all your money.
Little Italy, New York City, New York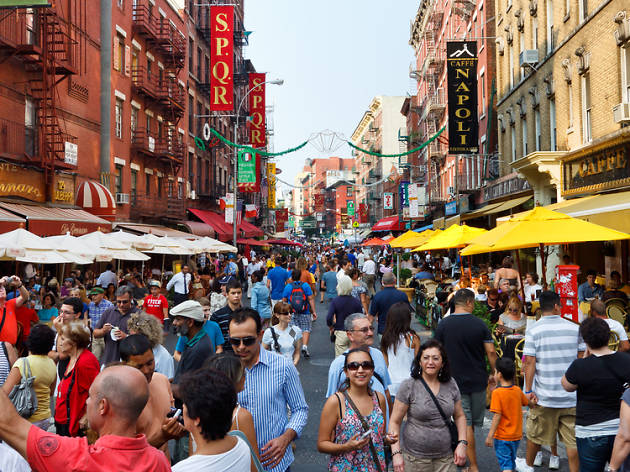 This small neighbourhood of NYC is mostly directed at tourists, as it offers tons of souvenir shops and extremely mediocre Italian food. Many foodies have been disappointed by this place with such a deceiving name. However, the Big Apple still is a home to many other great Italian restaurants, such as Arthur Avenue in the Bronx.